WELCOME TO THE ROCK HOUSE
Owners Rocky and Elaine Nelson opened in 2006 and have 30 plus years in the health and fitness industry. We are a medical based rehab facility with our Medical Director, Dr. Donald Franklin DC. who specializes in chiropractic services in Mentor and is affiliated with the Cleveland Indians.
Our main objective is to educate with the correct medical information. The owners have medical backgrounds and 35 years experience in the health care industry. We offer specified rehab and strengthening services target to your specific problem.
We pride ourselves on our cleanliness of our facility. Our equipment is well maintained and clean. Rocky specializes in rehab and therapeutic massage for pain. We have 2 new locations in Mentor and Chardon on the Square for Rehab/ Therapeutic Massage Including Couples Massage.
 Nutrition and Wellness Consultant Mandi Nelson

 THE ROCK HOUSE Facility

Located at 1847 Northridge Rd. in Painesville, OH.
This location features everything you need to get in shape and have a new lease on life.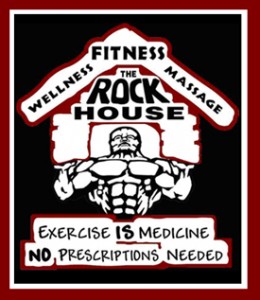 Save
Save
Save
Save
Save
Save
Save
Save
Save
Save
Save
Save